After signing up for Airbase Vendor Portal, find your account information, address, tax details, files, and invoices on the Vendor Portal.
Your customer processes payments based on the information available here.
The details added by the customer will be pre-populated on this screen. You can edit the details, if necessary.
Account Info.
The following details are required to accept ACH payments:
Bank Name.
Name on Account.
ACH Routing Number.
Account Number.
Account Type.
Airbase will validate the details in Account Info. The validation process will take 3 business days.
If the details are incorrect, you will receive an email notification with the option to update your Vendor Profile with the correct details.
The following details are required to accept Check payments:
Important
If you accept payments via Check, ensure that the ACH payment fields are left empty.
If both ACH payments fields and Check payment fields are filled in, Airbase will pay you via ACH by default.
Note

Pay to
is the name that will appear on the Check issues to you. Ensure that the name in this field matches the bank records.
Contact & Tax Info.
Add your contact information- your Name, Phone Number, and Email, as well as your Tax ID.
All your payment updates from Airbase are sent to the Payment Notification Email. Use this email to log in to your Vendor Portal.
Edit Vendor Detail.
Update Account Info and Contact Info using this option. Airbase will send a confirmation email with the updated information.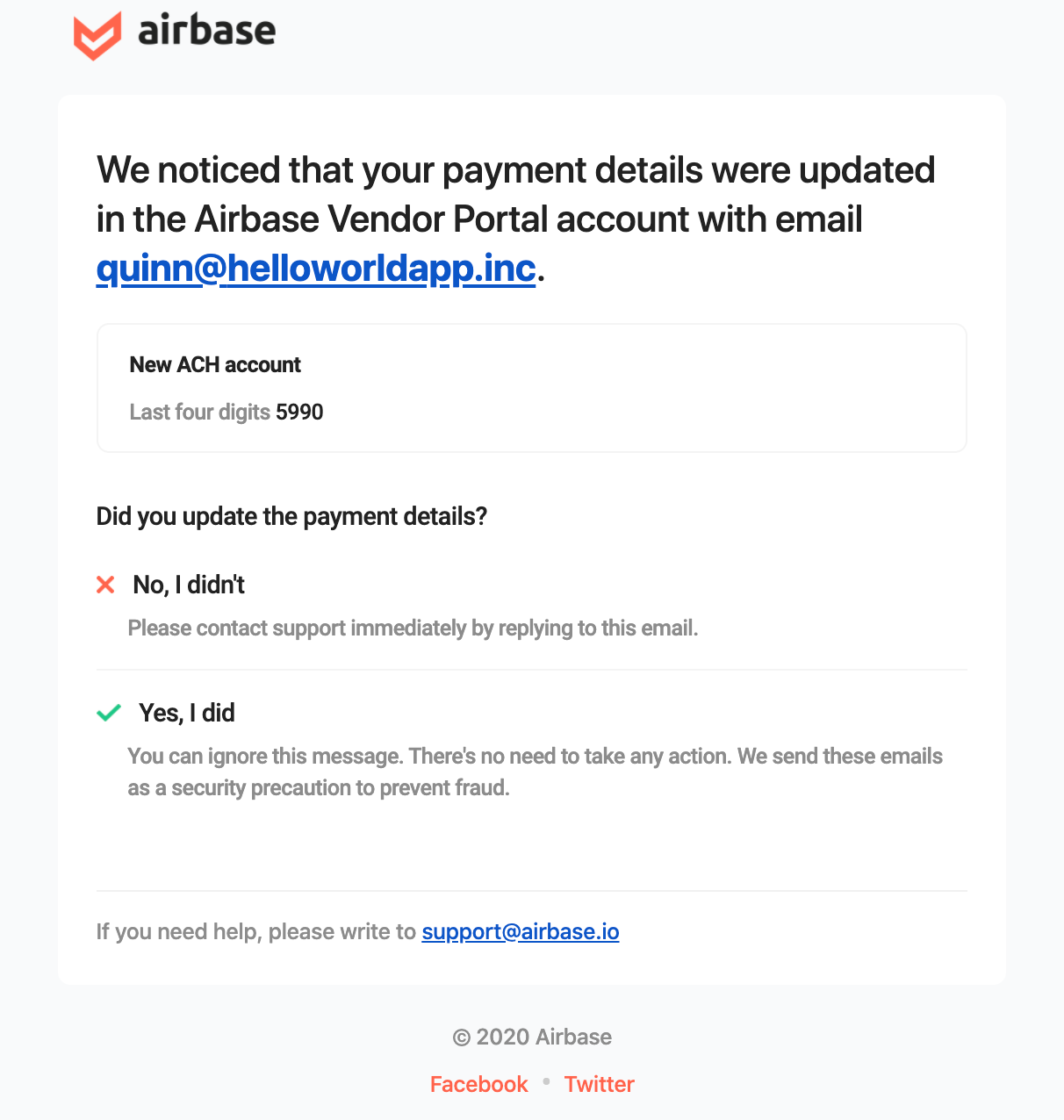 Open Invoices.
The invoices that are yet to be paid by your customer are listed here.
Payments In.
All the paid invoices are listed here.
Files.
Upload all the relevant files like the W9 and customer contract.
Note
If more than one customer uses Airbase Vendor Portal for ACH and Check payments, you can create multiple Vendor Profiles and switch between the accounts.